PROFESSIONAL TOOTH WHITENING
Wicked White is a collection of professional teeth whitening systems and products that dramatically whiten teeth without increasing sensitivity. Wicked White is designed for dental professionals and for consumers to use at home. Wicked White = brighter smiles.

Vegan
Cruelty Free

Gluten Free

Natural
No Additives
or Preservatives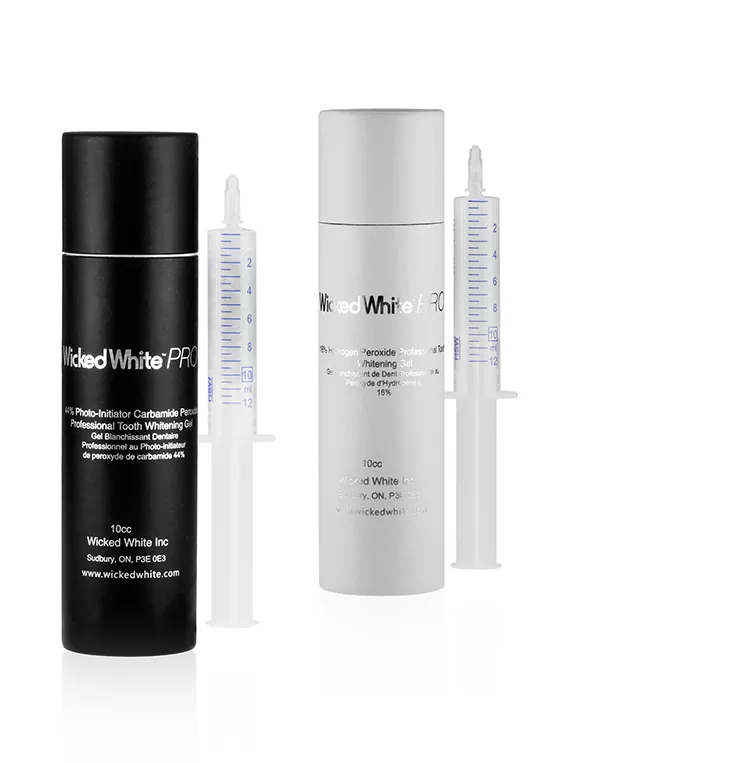 Pro
Wicked White PRO is a stronger teeth whitening system available only to dental professionals.

Home
Wicked White HOME is a teeth whitening kit that can be used in the comfort of your own home.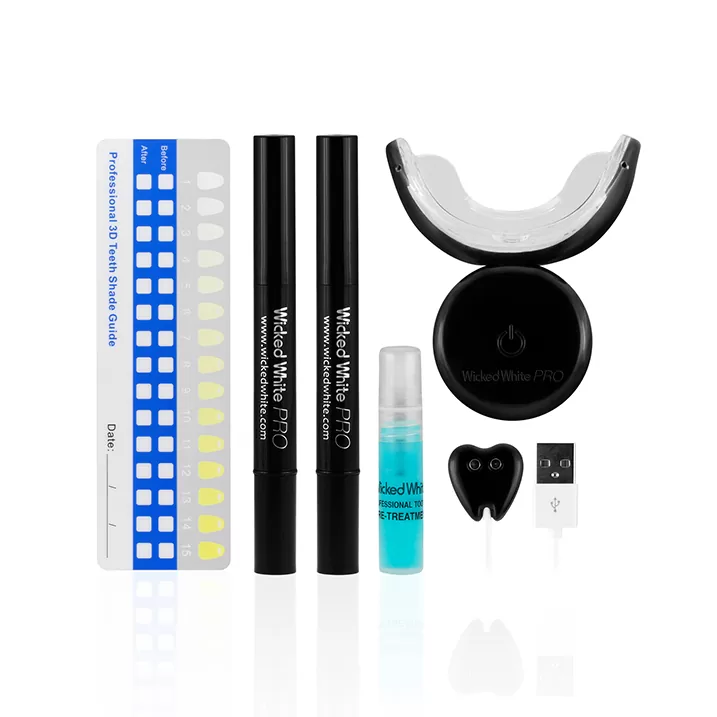 I have been using wicked white products for 5 yrs in my practice now, the results are great and patients never experience sensitivity. As well, Ronda has great customer service and her products are a fair price! You can't go wrong!
Ronda at Wicked White is an amazing person to deal with. She is so helpful and is always available to help in any way she can. The Wicked White product is the best I have worked with and I've been a hygienist for 28 years. The non sensitive formula allows for a comfortable whitening that always gives such good results. My patients love it and I love working with it. The wide range of options from pro to take home at all different price points provides an opportunity for everyone to have that white smile they have always wanted. Join the Wicked White team you won't regret it!!!
For the past 8 years, we have been using Wicked White to get the most beautiful smile possible for our clients.  Not only does it give fantastic results with no sensitivity, the company itself works in the same spirit of client safety and satisfaction as we do.  We are more than happy with the products, the prices and the service (you are amazing Ronda!).
I've been a practicing independent hygienist for 5 years now. I started my in-office whitening journey with Wicked White because of the neutral pH and "natural" ingredients. I continue to promote and use Wicked White because of the consistency and amazing results.  I love the flexibility of the process and how I can customize the product to our patients needs. I've development my own office protocol for specialized whitening that is unique and different.  Wicked white continues to find new ways to improve their whitening process for better outcomes. Thank you for providing clinical dental professionals the opportunity to use a safe and effective product.
At Fortino Dental we only want to provide the best for our patients which is why we offer the Wicked White In Office Whitening System. With all of our Staff having tried Wicked White we can positively promote and show our patients the incredible results. No Sensitivity combined with amazing  results plus the Take Home Touch Up Whitening Pen always has our Patients leaving happy and smiling! We even had our own Sign made up so our Patients can show off their Wicked White Smiles!! Get your Wicked White on today!!!
FIND


A PROFESSIONAL

Enter your postal code to find a dental professional that offers Wicked White teeth whitening treatments.